Laminate Countertops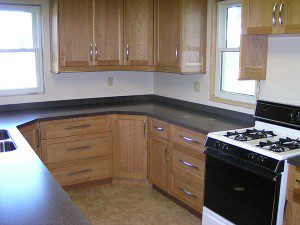 Counter Effects has been custom fabricating Laminate Countertops since 1988. There are hundreds of different colours to choose from with each colour having it's own variety of finishes that can be ordered making your counters truly unique to you.
Whether planning your new or remodeled kitchen or bathroom, Counter Effects representatives can help you get the look you are after.
When planning to do some re-modeling in your home or office, there are a variety of options included on deciding whether you should purchase a solid surface countertop or with a Quality Laminate Countertop finish.
Laminate Countertop Colours
There are many companies to choose from when selecting your laminate surface, and each company carries their own specific colours and styles, making your design options endsless. Click on any of the companies to the left to preview all of the colours and styles available or come and visit us and one of our consultants will be happy to show them to you.
Laminate Finishes & Profiles
The finish is the texture that coats the top of the laminate. Companies have their own unique finishes and are constantly coming up with new, unique finishes. Different finishes dictate different price levels. Common textures you might hear of are: Matte, Sparkle, Gloss, Honed, Etchings and DeepStar, just to name a few. Not all finishes are available with all colours. Your design associate will be happy to help you find that perfect look you are after.
The profile is the shape of the front nose of your countertop. Common profiles are d-wrap, 180-wrap, ogee. Your design associate will give you the option to make your counters uniquely yours.

Click here to view all available profile options.